Personally, my drawings are a study of how the human body in motion can create highly intense imagery. I am interested in poses that are evocative like sculptures and express a psychological disposition. A body can convey a whole range of human experiences. The challenge with dance is to encapsulate an array of emotions through the poses of a body.
Technique
Digital and Traditional Pencil Drawing
Dates
2013 – 2015
Subject
fig­ure draw­ing, por­trait, real­ist­ic depic­tion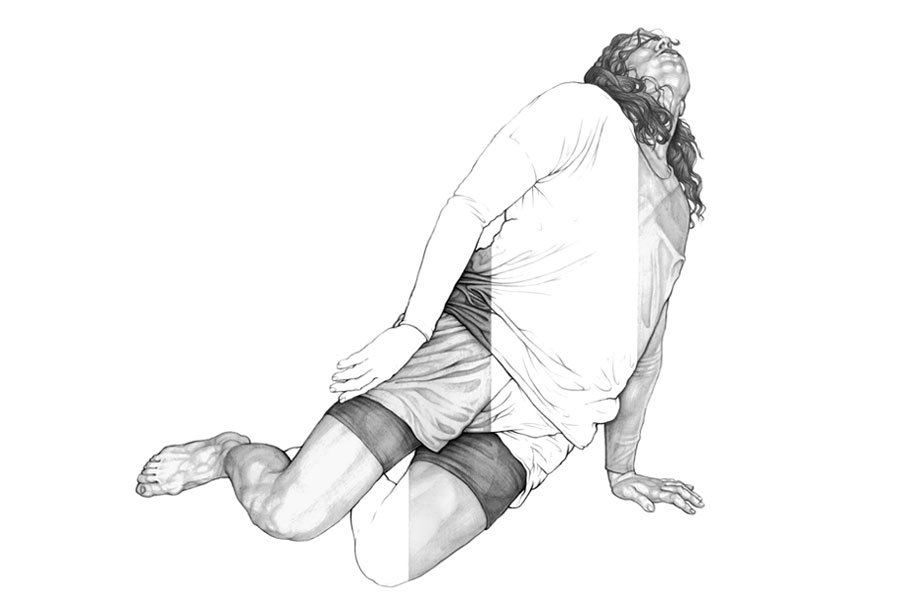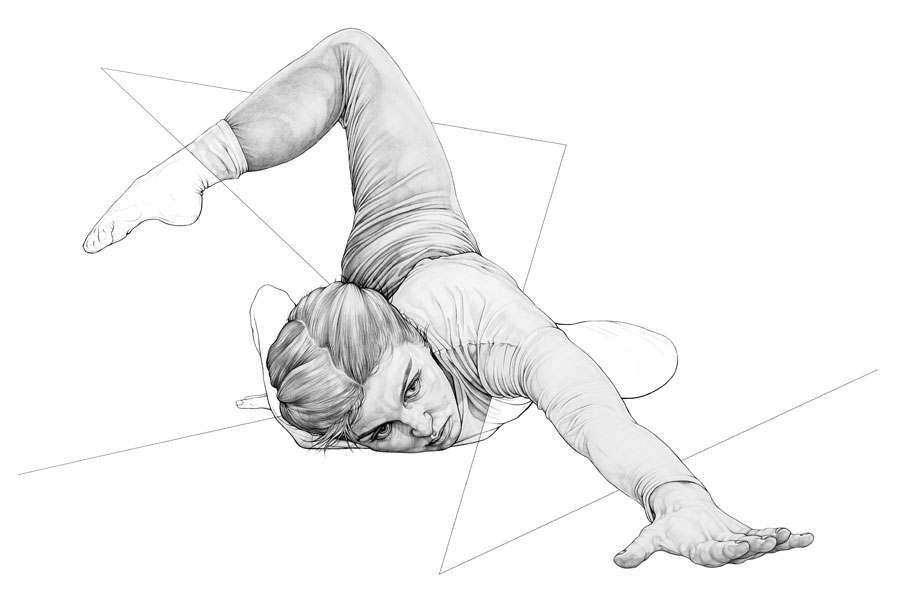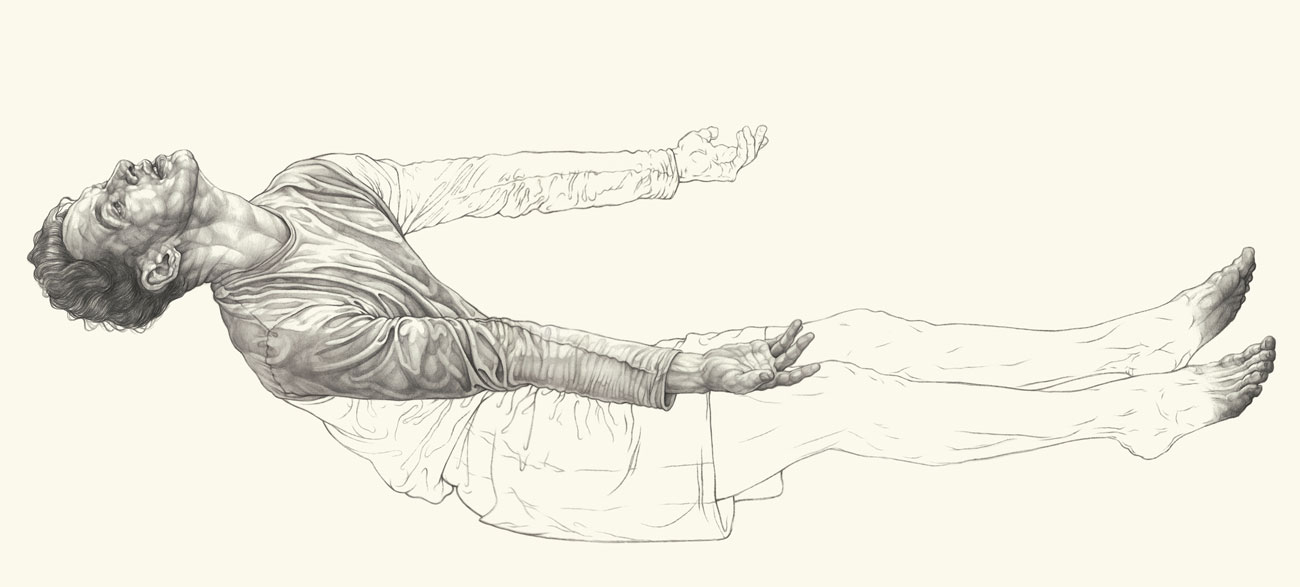 Exploring Dance in Illustration
My fas­cin­a­tion with dance ori­gin­ates from my interest in the human body as an art form and I am espe­cially intrigued in its beha­viour whilst in motion. With move­ment comes the concept of the 'fugit­ive' — sub­sequently there is an artist­ic need to devel­op a way to cap­ture this, or at least an impres­sion of the feel­ing it evokes and con­veys. Dance, like music, is a fleet­ing form of art unless recor­ded. I find my chal­lenge is to immor­tal­ise its essence with­in a new medi­um. In this way, through a more per­man­ent rep­res­ent­a­tion, I can enable one to con­tem­plate sin­gu­lar frames that usu­ally gets lost in the flux of dance. Dance as a sub­ject is par­tic­u­larly appeal­ing to me because its per­form­ance gen­er­ates the utmost uplift­ing exper­i­ence, not only for the dan­cer but also for the one who observes them dan­cing. Furthermore, as a meta­phor it rep­res­ents the struggle to con­quer the lim­it­a­tions of one's body, striv­ing to devel­op full con­trol over it. Often a body of a dan­cer is akin to that of an ath­lete ; owing to the fact that dance requires enorm­ous dis­cip­line, train­ing, strength and motiv­a­tion. Once rig­or­ously mastered, their bod­ies allow the dan­cers to express them­selves in the most unique and unin­hib­ited forms.
Exhibitions
Pandora's Box was an exhib­i­tion of mixed media draw­ings com­mis­sioned by Union 105 | East Street Arts. Karolful con­tin­ued to devel­op a new tech­nique of join­ing digit­al lin­ear out­line with tra­di­tion­al pen­cil drawing.Inspired by two Greek myth­o­lo­gic­al motifs ; 'Pandora's Box' and 'The Fates', this exhib­i­tion expands on recent dance install­a­tion per­form­ance by the Northern School of Contemporary Dance and a col­lab­or­a­tion with a video artist Blessing Oyebanji. It encour­ages one to reflect on human nature and its influ­ence on people's lives.
In November 2014 Karolful was invited to join TurnAround Dance Theatre in their res­id­ency at Yorkshire Dance. They were devel­op­ing a new piece called "Mirrored Minds", in which they explored how we use mir­ror neur­ons to learn, recog­nise and empath­ise with one anoth­er.
In January 2015 Karolina pro­duced a series of 4 draw­ings that were exhib­ited in The Dukes gal­lery in Lancaster. These were 30cm by 40cm mixed media pieces that com­bined digit­al lin­ear out­line with tra­di­tion­al pen­cil draw­ing.
Drawing inspir­a­tion from Greek Mythology, Karolina explores the motif of Rota Fortunae (Wheel of Fortune). It is a concept rep­res­ent­at­ive of the capri­cious nature of fate and luck and of how with­in our per­son­al nar­rat­ives we habitu­ally rep­res­ent time as a cycle between prosper­ity and dis­aster. For the pur­pose of this exhib­i­tion Karolful intro­duced a new tech­nique which blends a graph­ite mono­type with tra­di­tion­al pen­cil draw­ing. These draw­ings have been pro­duced in col­lab­or­a­tion with the dan­cers Louis Lever and Joe Thomas.
Karolful was invited to par­ti­cip­ate in a series of three pop-up exhib­i­tions in Manchester, each on one of the Fridays the 13ths in 2015. These exhib­i­tions are inspired by the notions of luck, chance, fate and coin­cid­ence. The first two took place in February and March at Rogue Studios and AWOL Studios respect­ively. These have been cur­ated by Katarzyna Jablonska and the final instal­ment is sched­uled for the 13th of November 2015.
This is a selec­tion from the series of over 20 pen­cil draw­ings, 60cm by 80cm, cre­ated between 2011 — 2013. These pieces have been exhib­ited in mul­tiple solo exhib­i­tions in vari­ous ven­ues, includ­ing Leeds Central Library and Yorkshire Dance.
In 2013 Karolina Szymkiewicz's art­work was short­l­is­ted for the New Lights exhib­i­tion, a bi-annu­al com­pet­i­tion show­cas­ing the best young con­tem­por­ary artists in the north of England.
On Friday the 20th of September the New Lights exhib­i­tion had its private open­ing at the Mercer Gallery in Harrogate. At this event Karolina's illus­tra­tions were awar­ded the TIG Prize (The Inter Group) for most out­stand­ing rep­res­ent­a­tion­al work. The Exhibition ran from 21 September until 17 November 2013 at the Mercer Gallery and will be mov­ing on to The Biscuit Factory gal­lery in Newcastle for January 2014.